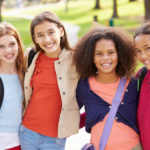 As we head into the end of the school year and the beginning of summer, I want to take this time to say, "Thank you". I am so thankful for all of the girls I have the privilege of journeying alongside and I am equally thankful for their parents and caregivers who have allowed me to nurture and support their girls.
It has been an AMAZING year for me as I have completed my book and as I prepare to launch Growing Strong Girls on September 1. It is available for pre-order at Amazon.ca and it will be available in August as an e-book!

I sincerely thank each and every one of you who has trusted me for ideas and advice, shared with me their concerns and struggles, humoured me when I recommend yet another book or website you should check out, and has affirmed that I am making a difference!
Have a wonderful summer!
Lindsay